Magento
For 11 years Storefront has specialized in Magento shops from A to Z at Belgian and Dutch top level. Both for completely new installations and existing shops that need maintenance or expansion you can rely on Storefront.
Powerful, versatile and fully customizable
Magento's magic
Looking for a platform to make your E-Commerce dream come true? Then Magento is an excellent choice. Magento is user-friendly, solid and extremely flexible at the same time. Not surprisingly, it's one of the most popular E-Commerce platforms today.
Solid base

Magento has a technically powerful base on which to build further. The basic installation without modules already has many built-in features.

Expandable

Easily expand your Magento webshop with existing or custom modules. Invest in a platform that is future proof.

For big and small

Magento's modular system allows you to keep your installation as simple or complex as needed for your project. Let the E-Commerce platform grow with you.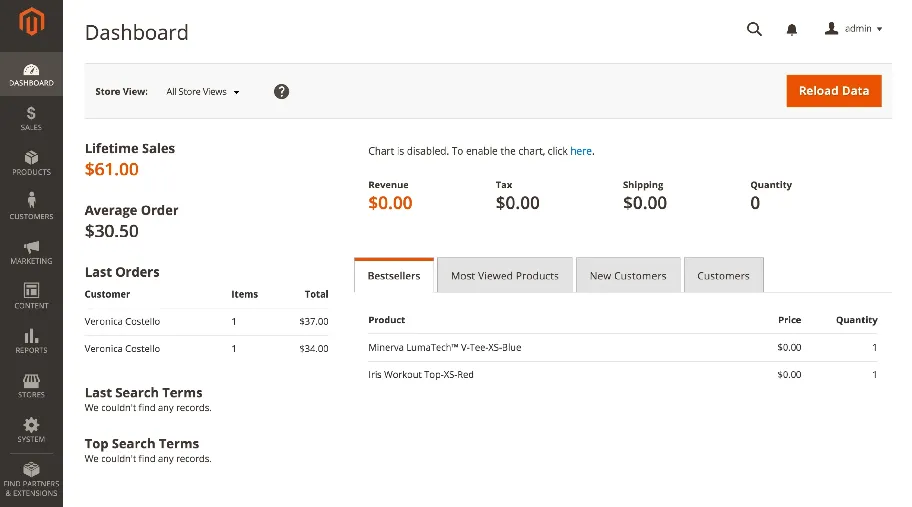 Need help with
your Magento project?
Let us assist you make your E-Commerce dream come true.
For both existing and brand new installations, you can count on Storefront.
We are Magento developers at heart with over 11 years of experience.
Why a Magento shop?
One platform for all your business

Whether you focus on B2B or B2C, you want to manage one shop or rather several in 10 different languages, Magento is the right choice. The Magento platform is omnichannel, multi-website, multi-store and therefore multi-purpose.

Future proof

Magento is a platform that can grow with you. It is dynamic and flexible and allows expansion and scaling. Expand at your own pace, within your budget. From 0 to 100% customization possible.

Central system

Managing all your data from one place? Did you know that you don't necessarily need external software? Magento offers the possibility to manage all your data from within the platform. Think of product information, invoicing, newsletters, ... It's simple and inexpensive.

Open Source Magento

The source code is freely available and anyone who wants to can collaborate to make the product better. Every day, developers worldwide contribute to the improvement of Magento.

Modular

Magento is a modular platform. It's a basic installation to which modules can be added. We have already developed over 180 modules ourselves.

Links and automation

Through existing or new modules, Magento can be linked to external software. Think for example of carriers, PIM, newsletters, invoicing, ERP, ... We are experienced in data integration.
Magento from A to Z
Our Services
You can turn to Storefront for everything Magento related. From idea to realization. From 0 to 100% customization. Fanatical service included.
Magento hosting

As Magento specialists, we know better than anyone what a Magento platform needs. With our hosting service, you have just one point of contact for everything related to your installation.

Magento audits

Magento too slow or doubting your installation? Would you like to have it thoroughly checked? We take a close look at your installation and draw up an extensive report. So you know exactly where you stand.

Magento customization

Need to create a Magento webshop or optimize your existing webshop? We can set up your webshop, expand it with existing modules or develop a custom module. You can come to us for both large and small Magento projects.
Frequently asked questions
Not finding the answer you're looking for? Get in touch with us.
That depends on a number of factors, but given the flexible and dynamic nature of Magento, there is a good chance it will be suitable for your E-Commerce project. Contact us and let us find the best solution together, even if it turns out not to be Magento.

It depends from project to project. Do you already have an existing installation that is well set up? Then it may be more beneficial to continue building on that. However, is it a new installation? Then you can still go either way. We are happy to help you weigh up the options and find the perfect solution.

There are several versions of Magento. Adobe Commerce (formerly known as Magento Commerce and even earlier as Magento Enterprise Edition) is the paid version (subscription form). You pay a (fairly high) license fee per server and a percentage of your sales each year. As an independent developer, we usually don't find this option interesting enough to justify the high cost. The Magento Community Edition is the free and open source version of Magento 2 and for about 95% the same as Adobe Commerce. If you really need certain features from Adobe Commerce, we can also just add them to the Community Edition. You then pay for the development once and not every year. Note that Adobe Commerce is a license fee only. You don't get a service in return. Setup, development and maintenance should still be done by a professional Magento developer.

Upgrade only if it adds something. If you have a Magento 1 installation that is well set up and meets your needs and wishes, then upgrading is not necessary.

Sometimes there are good reasons to switch from Magento 1 to Magento 2 and vice versa. Do you want to switch installations? Then you are in good hands. We are experienced in migrating from Magento 1 to Magento 2 and vice versa.

The cost of each project is different. One project requires more customization than another. The cost price always translates into the number of working days needed by software programmers and graphic designers to create your webshop.

Storefront is a web builder with 11 years of experience in developing E-Commerce solutions. As a firm, we are neutral and impartial. Magento is very broadly applicable and therefore often the best solution. If Magento is not suitable for your project, we have no hesitation in saying so and together we will look for a solution that is.

Storefront is no longer an official Magento partner. We used to be, but we chose to remain independent. Over the past 11 years, we have already built our reputation and don't need partner labels.