B2B E-Commerce
Yep, B2B E-commerce is booming business and will soon become indispensable in the business world. Ready for the digital switch? We've got you covered. We develop entirely tailored to your company and target audience.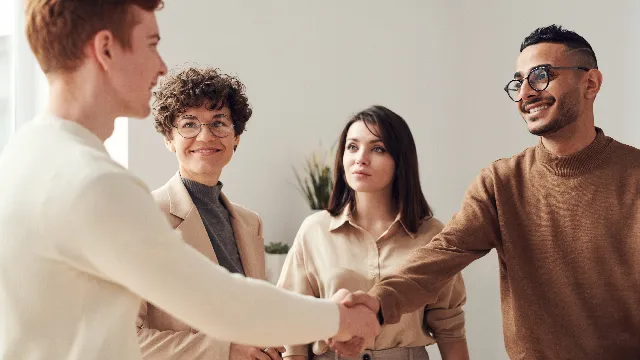 Boost your business
B2B E-Commerce?
It is no secret that the number of online sales has skyrocketed in recent years. Just like individuals, businesses are also increasingly switching to E-Commerce. B2B E-Commerce is on the rise.
Ordering by mail, fax, phone or representative is a thing of the past. Unless your company has a monopoly or can always offer the most competitive price, it is difficult to persuade companies to choose you anyway.
A Business to Business (B2B) platform, like Business to Customer (B2C), has the goal of reaching more customers. More customers = more revenue for your business. Although the goal is the same and many things are similar, the business market still requires a specific approach. In both cases, the buying process must be made as simple as possible. And therein lies precisely the big difference between B2C and B2B. Business customers have different requirements and conditions that must be met. The best B2B web shops meet the needs of their users.
Interested in the (general) benefits of an E-Commerce platform? Find out all about E-Commerce platforms here.
We are happy to explain what a B2B platform can do for your business.
The benefits
Online catalog

ERP integration

Optimal user experience

Support for large shopping carts

Add ons

PunchOut integration

Different user roles
Online catalog
A B2B platform allows you to present and sell your services and products online. You can add, modify or remove products at any time. This keeps your catalog completely up-to-date!
ERP integration
To offer products online you need underlying data such as prices, product specifications, stock, etc. We can connect your webshop to your ERP system. This way, all data will come live from your ERP system. The advantages are endless: you can continue to work with your familiar ERP system, less double management, real-time product information, stock and prices, etc. We are experienced in the integration of various ERP systems.
Optimal user experience
To create an optimal buying process, we need to put ourselves in our target audience's shoes. What can we do to optimize their user experience? The easier it is for customers to purchase something, the better for both parties. A difficult purchase process can be a reason to switch to another company.
For example, we can set up the checkout in a way that your customers can order without having to settle right away. Billing is done through automatic processes. This is just one of the many ways you can improve your customers' user experience.
Support for large shopping carts
Business customers' shopping carts can reach significant proportions. That's why we need to make sure your B2B E-Commerce platform is up to the task. No hiccups or delays because of a large shopping cart.
Add ons
A suitable B2B E-Commerce platform is one that allows expansion. As your online store grows, we are ready to add new features and tools to your installation.
Do you want to show product prices only to your logged-in customers? Do your customers have to submit an application first before they can place an order? You name it! We have everything you need to set up and/or expand your installation.
PunchOut integration
A PunchOut catalog with OCI integration is a technique that allows your customers to place orders from within their own purchasing system. It's a connection between the customer's E-Procurement software and your own catalog. The shopping process between the two parties is streamlined by automating authentication and basket transfer, for example.
The customer must be logged into their own system and from there they can access your shop. Products are added to the shopping cart and when the customer's ready to checkout, the shopping cart data will be transferred to the customer's system and a purchase order will be created. So the purchase is handled internally, according to their own policies and workflows.
Companies are always looking for new ways to optimize their business processes and make them more efficient. Similarly, they are setting stricter requirements for their suppliers. The possibility of a PunchOut catalog, can make you appealing as a supplier to potential customers. It's also a good way to increase customer relations. Your customers use their own system, which contains a direct link to your webshop. In addition, this integration is also an investment that will not be repeated needlessly. Thanks to a PunchOut integration, your B2B sales can take off. Find out all about data integration here.
Different user roles
Depending on the needs and wishes of your customers, we can create different user roles for each customer. Permissions can be assigned to each user role. The user role determines what you can and can't do on a website.
For example, an employee can prepare the entire order, which should then be confirmed and settled by someone with more permissions.
Wondering what a B2B driven webshop can do for your business? Feel free to contact us to explore all the possibilities.
Frequently asked questions
Not finding the answer you're looking for? Get in touch with us.
A B2B webshop has a number of specific features to make business ordering more smooth. With focus on self service. Think for example about the possibility to request an invoice in one click in the account dashboard. An efficient and fast purchasing process is vital. This is what companies demand, and what thriving B2B companies can offer.

Absolutely. You can manage both B2B and B2C sales from one platform. If your shops are parallel, you obviously don't want to have to pass the checkout twice. You pay only once for the set-up of one installation and for the work to customize both shops.

You need to make yourself as appealing as possible as a supplier. One way to do this is to provide a seamless shopping experience. Make sure information about products and purchases is clear and easy to find.

Companies are also making more and higher demands on their suppliers. You can retain your customers and attract new ones by meeting these. Remember that certain things considered innovative today may be standard in the future.

Put yourself in your customer's shoes. What can you do to make the ordering process even easier, faster and/or more efficient. With a few adjustments, you may be able to strengthen customer relations and attract new customers.

Sure. For data integration, you will find a reliable partner in us. We have the experience and technical know-how to connect systems.

They can. Then we can set up a main account with multiple sub-accounts. This way, all employees can have their own account and login.

You can do that in a number of ways. Ranging from simple adjustments like displaying prices excluding VAT to more complex interventions such as a connection to the customer's purchasing system and everything in between. Who are your customers? Which customizations will have the biggest positive impact on them? Some of these customizations are probably worth the investment.

It can be convenient for your clients to maintain multiple wishlists under one account. Take for example an event planner who wants to keep a wishlist for each project to finalize later on. We can provide support for multiple wishlists so your customers can add products from a particular wishlist to the shopping cart in just one click.