Data integration
Connect your business software to an E-Commerce platform? Look no further! Storefront is specialized in integrating various systems.
Connect your apps
Data integration?
A data integration or API is a connection between two systems, which enables automatic data exchange between the two. For example, consider a connection between your E-Commerce platform and an accounting system, Product Information Management (PIM) system, an external delivery service, ...
A practical example: at night, data is fetched from the PIM system and synchronized with the E-Commerce platform. When a customer places an order, the invoice is forwarded to the accounting program.
A shipping label is automatically created and the track & trace code is found on the order confirmation email. So in this case there are 3 data integrations where the E-Commerce platform is central and exchanges data with the accounting program, the PIM system and the external delivery service.
And this is only the tip of the iceberg. Read on to find out which integrations could be interesting for your business!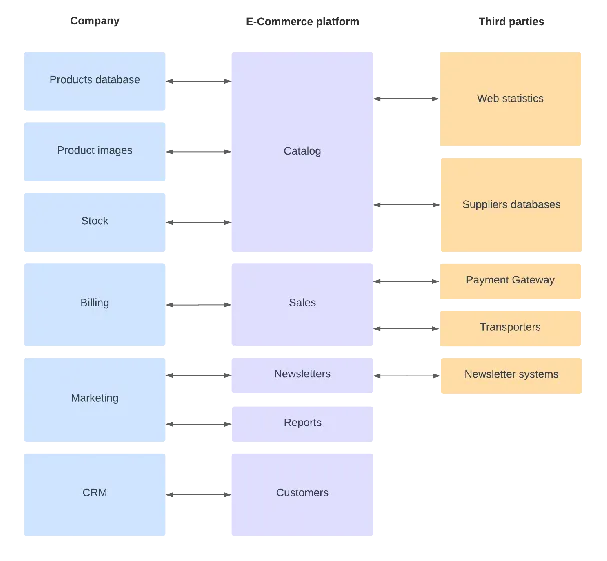 The benefits
Save time
Since all data from different systems is synchronized, you maintain your data in only one place. No more double work, you enter the data once and that's it! It goes without saying that this saves you a considerable amount of time (and thus money).
Reduced error rate
When you manage your data in 2 systems, you can also make twice as many mistakes. And then the data no longer matches. Reduce the error rate by managing your data in one place.
Optimal user experience
Do you want your customers to enjoy an optimal user experience? Then it probably won't take too long before data integration comes into play.
Think of the real-time stock you can display on the screen: "Ordered before 5 PM, delivered tomorrow!". Or consider the track and trace code the customer automatically receives when the parcel is shipped.
There may be a lot of integrations that can be interesting for B2B as well. Turn your E-Commerce platform into a self-service portal where everything can be done in a couple of clicks. For instance, your customers can request the invoices of the past year themselves in the customer portal. Your customers are served in no time and you have more time for what really matters.
Endless possibilities
As your business grows, new needs will undoubtedly arise. Then a data integration can be the solution that allows your business to grow even further. When your business is ready, we are ready to create new data integrations!
External software integration
Our expertise
At Storefront, we already have 12 years of experience with data integration.
This is just a selection of the software we have experience with. Do you work with other software? Feel free to contact us to explore the possibilities together.
Microsoft Dynamics (Navision)
E-commerce platform as data management system
No existing business software yet?
You do not (yet) have enterprise software? Then it might be interesting, depending on your needs, to use your E-Commerce platform as a data management system.
Data can also be managed in E-Commerce platforms. Think of product information, invoicing, newsletters, ...
The setup is a lot less complex, so you will pay less. In addition, your data will be in one place, which you will manage from this one place only. This way you only have to master one system.
Not quite there yet? Contact us without obligation. We are happy to think along with you!
Curious about the integration possibilities for your existing or new E-Commerce platform? Contact us and together we will find you the best solution!
Frequently asked questions
Not finding the answer you're looking for? Get in touch with us.
Purchasing a software package can have a big impact on your business. It can be an enrichment, but also a limitation.

Did you know you don't necessarily have to purchase a software package? Perhaps it is sufficient for your project to use the E-Commerce platform as a data management system. An E-Commerce platform often has a lot of built-in features already, so you don't need external software for it. Easy and inexpensive.

Not quite there yet? Get in touch and then we are happy to be there to stand by your side with our expertise to come up with the best solution for your business.

An Application Programming Interface or API for short is an interface that allows systems to communicate with each other. It is the link between systems and the messenger of requests and responses.

With larger and more common applications, it is usual to have an API available, through which it is possible to communicate. When you invest in new software, it is a good idea to check whether an API is available. That way you will know whether or not it is possible to integrate this software with others.